Determined to learn
Developing our people is a key pillar of our culture at PageGroup and it is critical to the success of our business. That's why we take it seriously. PageGroup offers a clear and transparent career journey and provides the support and development needed for our people to reach their potential. Through a market leading blended learning approach our employees can learn through a variety of materials including video, infographics, interactive e-learning, gamification and virtual and physical classroon sessions. 
From the moment our people join us, whatever their level of experience, there's a clear development pathway all the way to the top, starting with our global on-boarding programme which brings new starters quickly up to speed on who we are, what we do, our values and how best to grow the business. 
For our operations teams, there are consultant development programmes to guide and give people the mindset, skill-set and recruitment tool-set they need to succeed. Career journeys and progress at PageGroup across operations, support and group services functions are supported by management development programmes reinforcing the vision, purpose and values which underpin our strong Page culture. 
As people advance through their career, we encourage greater self-awareness through personal development plans including 360 degree feedback. 
Our annual talent review of senior leaders identifies high potential employees for accelerated development. As participants in the Global Director Academy (GDA), directors focus on creating and sustaining a culture of inclusion and are equipped with the development and networking tools they need as the future leaders of our organisation. 
Our senior leaders are supported by external executive coachingprogrammes created to support our leadership and talent strategy and aligned to our 'PageGroup Potential' model. The coaching programmes allow for greater self-awareness, supporting personal development goals while working in a leadership position.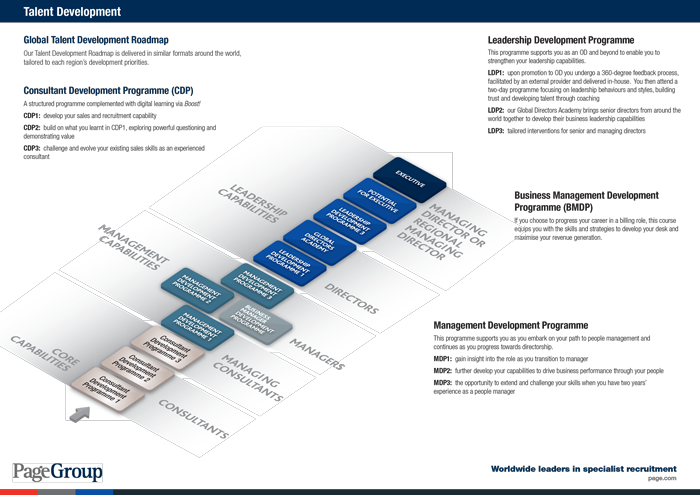 ---
Induction training
Core training
We know everyone needs the best start so, when you join, you will follow a blended learning path.  We combine digital content with face to face courses delivered by operational managers and directors.  All our training is interactive and practical and helps you develop recruitment skills and commercial acumen.  You'll have a lot of fun too!
Lunch and Learns
Throughout the year, we hold short, impactful workshops focused on developing core recruitment and sales competencies. Topics may include Solution Selling, Negotiation, Time Management and others.
---
Consultant Development One
Changing Lives
Changing Lives is the first stage of the Consultant Development Program. This course will be covered both on our digital learning platform, at desk and in the classroom. The course focuses on mastering the art of selling and developing the right mind-set.  It is designed to help you excel in the current sales climate and to develop your own client base.
Creating Opportunities
Once you have gained experience in the role, the second stage of the Consultant Development Program builds on the skills and techniques already learned, including creating opportunities with clients, developing powerful questioning skills, and delving deeper into the psychology of sales.  This toolkit helps build deep rapport with clients and candidates, generate business opportunities and maximise the sales pipeline.
Reaching Your Potential
Two years into the sales consultant journey there may be an invitation to attend Reaching Your Potential.  It's what makes our most successful consultants even more successful.  It's our equivalent of 'Fight Club' and … you're right ... the first rule of Reaching Your Potential is - we don't talk about Reaching Your Potential!
---
Manager training
Managing, leading and coaching others is key to the success of our people and our business.  Our modular management programme is designed to develop and fine-tune the key skills of managing yourself, leading others and leading the business:
Phase 1 – Begins the programme at the very start of your exposure to management, and maybe even just before, giving an insight into the manager's role and helping the transition when promotion comes. The course covers a range of topics including understanding the scope of the manager role, how to build a business, driving performance, basic coaching skills and time management.
Both trainers were excellent and really understand the detail of what our roles entail, and the challenges that it throws up - they can always really relate to the scenarios us trainees bring up.
Phase 2 – the first course after promotion consists of 7 individual days, devoted to driving business performance through people. Topics include sourcing and hiring potential recruitment consultants, how to conduct effective reviews and appraisals, setting a vision to engender high levels of engagement, and understanding the importance of diversity and inclusion.
I would have thought at some point the learning curve would slow and we would get less from 'classroom' courses and learning would become more situational - I am completely wrong. We are very lucky to have such an amazing resource in this company.
Phase 3 – Designed specifically for managers with over two years' management experience, this course further develops and challenges existing skills, looking at different approaches.  It studies how to grow existing markets and develop new ones, along with people challenges such as identifying and understanding individual motivators and helping to overcome performance plateaus.
I was very impressed with the relevance of the content and how easy it is to put into practice. Great for managers who are looking to grow in their own role and empower their teams.
---
Leadership Development
Our training and development programme doesn't stop when you reach director level.  At this level we focus on communication, building trust, motivation and effective relationships, as well as continuing to develop commercial and business skills. A 360 degree feedback process based on our leadership behaviours leads to a personal development plan and an increased awareness of natural strengths.
Our external training partner and coaches ensure our directors continue to benefit from broad and current leadership thinking. 
Level One – improves leadership skills which aren't part of a specific role, preparing for leadership of larger business units.
Level Two - Our 'Global Directors Academy' brings senior directors together from around the world to develop their business leadership qualities on the path to becoming managing directors.